Safe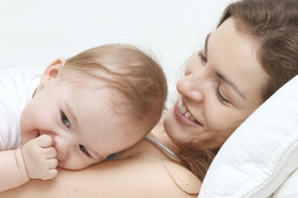 Today's Oilheat delivers peace of mind.
When it comes to your home and your family, you want your heating system to be safe and reliable. Here are ways in which Oilheat exemplifies safety and dependability:
It will not burn in a liquid state. In order to ignite, heating oil must be heated to above 140°F, the temperature at which it begins to vaporize.
There are visible warnings if there is a malfunction. With home heating oil systems, carbon monoxide leaks rarely happen without warning. If an Oilheat system malfunctions, it will release smoke or soot as a visible warning; these serve as early indicators that something is wrong, long before dangerous levels of carbon monoxide can be released into the air. Having your equipment serviced regularly is key to safe operation.
It's non-explosive. Heating oil is not explosive in its liquid form.
Today's tanks are stronger and less likely to leak. Whether your oil storage tank is in your basement, in a pantry, outside, or even underground, today's tanks are composed of state-of-the-art steel and fiberglass. Many tanks come with double walls of plastic or steel, and sensors – all of which allow the tank to last for decades.
Renewable
Oilheat has a bright green future, and Bioheat® fuel plays an important role. Bioheat® fuel - heating oil blended with biodegradable organic materials such as soybean oil - is one of the "hottest" things happening in home comfort. Bioheat® fuel is not only kind to Mother Earth, it's kind to heating systems, too.
Bioheat® Fuel Characteristics:
It is extremely clean burning.
It has the highest Btu content of any alternative fuel.
Domestically produced, soy-based Bioheat® fuel helps to support our nation's farmers and reduce our dependence on foreign oil.
Biodiesel production supports $16.8 billion in total economic impact, more than 62,000 jobs and $2.6 billion in wages paid.
Bioheat® Fuel Benefits for Homeowners:
Bioheat® fuel produces the same satisfying heat as "regular oil."
According to studies, Bioheat® fuel performs just as well as, if not better than, conventional heating oil.
It lubricates your heating system.
You don't have to make any modifications to your burner or tank.
You don't have to buy any new equipment.
You don't have to change your budget plan, payment plan, service contract or warranties.
Performance standards for Bioheat® fuel blends to B20 have been approved by ASTM International, an organization which sets industry standards for fuels and lubricants. 
Find out more about Bioheat® Fuel
Efficient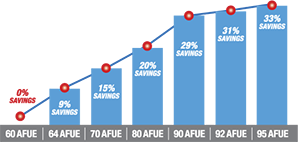 Some new Oilheat systems boast efficiency ratings of 95 percent, providing more warmth with less fuel than ever before. 
Recent studies funded by NYSERDA show fuel savings as high as 48.3 percent when replacing an outdated boiler with a new, high-efficiency boiler.
Oilheat equipment is constantly evolving to incorporate advancements in efficiency and comfort. Many new boilers are designed to incorporate weather-responsive controls that greatly reduce fuel usage during mildly cold weather and provide a more even heat with fewer temperature swings.
Other important advancements include two-stage burners that conserve fuel and electronically commutated furnace blowers that save electricity, provide smoother operation and work well with high-efficiency central air conditioning systems.
Save with Oilheat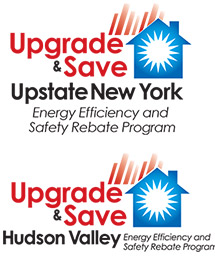 Upgrade & Save Rebate Programs
Studies show that heating system upgrades can reduce your annual energy expenses by 30-40 percent and pay for themselves in just a few short years. Now, you can make that payback come even quicker and start saving immediately with the Upgrade & Save Energy Efficiency and Safety Rebate Programs. Click here to learn more.
Clean
Oilheat burns cleanly. Today's Oilheat burns 95 percent cleaner than in 1970. Since it burns so cleanly, it comes well within the air pollution standards set by the Environmental Protection Agency. Low-sulfur products and renewable biofuels, such as those made from soybeans, reduce Oilheat's already near-zero emissions even further.
Oilheat is kind to the environment. In fact, residential heating oil equipment is not even regulated by the Federal Clean Air Act.
Oilheat is better than ever: Across the country, the heating oil being delivered to many homes is now Bioheat® fuel - a Low-Sulfur or Ultra-Low Sulfur product blended with renewable biofuels.
Oilheat storage is safe, reliable and convenient.  Today's tanks are designed with corrosion-resistant materials and can last for decades. New technology allows for remote monitoring to protect against the rare event of a leak, and to ensure you always have a sufficient supply of heating oil on hand, no matter what the weather brings. 
Domestic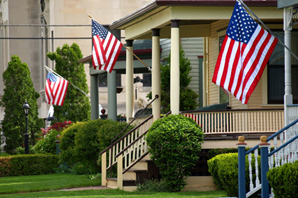 Crude oil is produced in 31 states today, and US production of crude oil is at its highest levels in decades. The biodiesel and Bioheat® fuel used in today's green heating oil blends is also made domestically from agricultural or recycled resources, reducing America's dependence on foreign oil and creating jobs here at home. Biodiesel and Bioheat® fuel create thousands of U.S. jobs throughout the entire production and distribution chain.
Finally, Oilheat dealers are local businesses that are part of the community. The majority of full-service Oilheat dealers live in or near the communities they serve, and participate in local civic and service organizations.
Abundant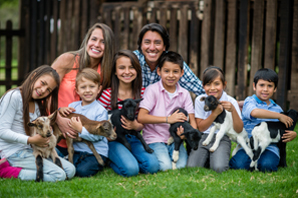 There's an abundant and safe supply of Oilheat to keep all of America warm and comfortable for many years to come. In the United States today, 6.4 million households use Oilheat. Based on an average of 2.6 or more persons per household, it is estimated that over 16.5 million consumers in our nation benefit from heating oil each year. (US Census Bureau, 2013 ACS One Year Survey)
U.S. crude oil production averaged 8.9 million barrels per day (b/d) in 2016, and 9.0 million b/d in 2017, and is forecast to average 10 million b/d in 2018. These totals position the U.S. as one of the world's top three oil producers and help ensure an abundant supply for all of the households that use heating oil each year. 
Today there are more than 50 oil-producing countries, and the U.S. is not dependent on any one country or region for its supply. And according to the U.S. Energy Information Administration, the country from which the U.S. imports the most crude oil is Canada, our neighbor to the north. 
Independent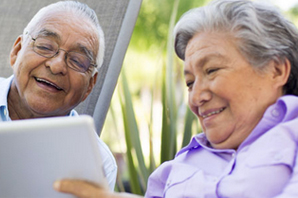 Freedom of Choice
Oilheat is supplied by many dealers within each town and gives homeowners and businesses true independence on a personal and national level. Individual dealers may offer different levels of service, and customers have the freedom to choose the dealer, programs and services that are right for them … and to switch dealers if they choose.
Independent Dealers offer many services, which may include*:
Convenient delivery options including will-call, COD and automatic delivery
Equipment repair, sales and installation
24/7 emergency service
Service/Maintenance Agreements
Budget and Price Protection Plans
Other value-added programs
*Not all dealers offer all services. Please contact your local home comfort provider for specific information and requirements.
Oil Storage Tanks give you even more freedom, giving you the ability to safely store the heating oil your home will need, for whenever you might need it. Your storage tank is a "stocked pantry" for your heating system.
Tanks may be installed in a basement, utility room, garage, outside, or underground.
New tanks are made from steel or fiberglass, or with a 'double wall' consisting of one steel and one plastic, to withstand deterioration and last for decades.

For more information on today's Oilheat, visit the Oilheat America website.