Thanks for Coming Out and Swinging in the Rain!
While last year's Empire State Golf Outing had intermittent downpours, this year we endured an entire day of non-stop rain! We'd like to thank everyone who came out and joined us at the Colonie Golf & Country Club on Monday, July 22.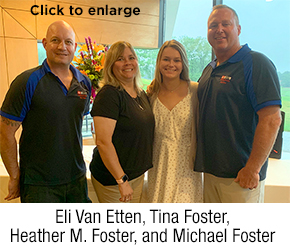 Despite the less-than-ideal weather conditions, some golfers managed to finish. Of those golfers, the team with the lowest score consisted of:
Erik Geckler of Mirabito Energy
Daniel Mero of Integro Insurance
Dean Williamson of IPT, LLC
Congratulations for getting the lowest score - and for finishing in such extreme conditions!
Additionally, our scholarship award winners were announced during the evening. Once again we'd like to congratulate...
Kori M. Thornton of Brainbridge, NY for winning the Alan P. Savory Memorial Scholarship Award ($1,500)


Heather M. Foster (pictured above with her proud family) of Grahamsville, NY for winning the Empire State Energy Association Scholarship Award ($1,500)


Melena C. Andrade for winning the Michael J. Manning Scholarship Award ($1,500)


We'd like to thank all of our sponsors, donors and those who have given their support to help make this year's golf outing a success. And thank you to the Colonie Golf & Country Club for hosting!
One last thing: The Colonie Golf & Country Club is giving all golfers a rain check for putting up with the rain! To set up a time to play, all you have to do is call the pro shop at 518-765-3379. Be sure to check the weather forecast before calling!
Keep an eye out for the date of next year's golf outing. We look forward to seeing you all again at the next get together!
---
Thank You to Our 2019 Golf Sponsors